Status: Wish, – Specification, Shooting Data –
Pulsar HP has Huge Energy .22 caliber Air Rifle, its energy is 68J (50fpe).
With unique ergonomics and an action that's computer controlled via a sophisticated motherboard and software, the Pulsar builds on Daystate's years of electronically-powered airgun success to represent a revolutionary step inPCP design.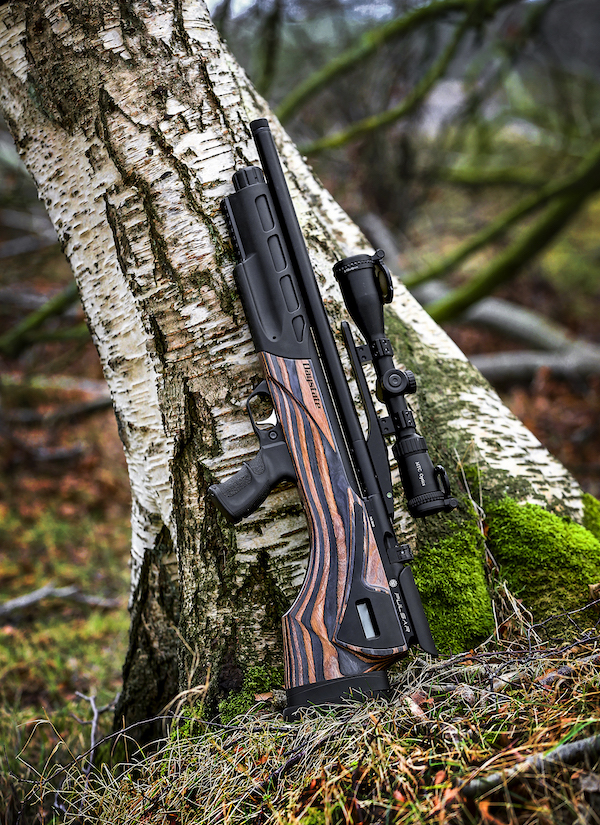 The DAYSTATE PULSAR CELEBRATORY SAXON EDITION
Complementing our new Genus PCP that commemorates the 40th anniversary will be a number of special 'celebratory' models. Released throughout 2019, these will be based around rifles in our existing line-up and will incorporate some of our favourite stock patterns that have hitherto graced other models or we have seen requested.
Although these celebratory variants are not strictly presented as the Limited Editions, we have become so well known for producing, their availability will nonetheless be time limited.
The first model to get dressed for this special occasion is the iconic Pulsar –our flagship bullpup with its avant garde electronic action – which will be feature stylish laminate woodwork previously appointed on their Limited Edition Saxon, which debuted in 2016.
The Pulsar with Saxon laminate will be internationally available in .177, .22, .25 and .303 calibres, with power levels up to 70 ft/lbs.
Specification
| | |
| --- | --- |
| Caliber | 5.5mm(.22) or 6.35mm (.25) |
| Muzzle Energy | 68J (50fpe) |
| Loudness | N/A |
| Barrel Length | 600mm (23.0″) |
| Overall Length | 890mm (35″) |
| Shot Capacity | 10 |
| Barrel | Rifled |
| Scopeable | 11mm dovetails |
| Trigger | Electronic release. Adjustable for weight and length of stage |
| Buttplate | Ambidextrous synthetic or laminate |
| Cocking | Via sidelever (electronically cocked and fired) – User Reversible |
| Safety | Manual, cross bar, lever open deactivation. |
| Powerplant | Pre-charged pneumatic |
| Function | Repeater |
| Max Shots per Fill | 43 – .22cal., 55 – .25cal. |
| Body Type | Rifle |
| Power Adjustment | High 100%, Mid. 80%, Low 65% |
| Weight | 3765g (8.3lbs) |
| Cylinder Size | 300cc 250BAR/3,625PSI |
| Shrouded | Yes |
| Battery | 4 AA type batteries, 1.5 V |
| Others | Bubble Level & Laser Sight included |
| Suggested for | Hunting |
---
Power Adjustment .25cal.
---
Power Adjustment .22cal. Simulate
High – Mid
Low
Status: Wish, – Specification, Shooting Data –
Red Wold has Huge Energy .22 caliber Air Rifle, its energy is 68J (50fpe).
The all-new Red Wolf holds the mantle for the most advanced PCP sporter in the world – and for good reason. A breath-taking picture of elegance on the outside, secreted within its sidelever-operated, computerised action lies the very latest electronic MCT technology developed from the Pulsar program. It comes in both standard and Hi-Power models.


Features and specifications of the Red Wolf Air Rifle
Digitally regulated for a super consistent high shot-count, and sporting a trigger that incorporates adjustability of both release and finger placement, the Red Wolf delivers match-like accuracy at the very extremes of airgun ranges. Its masterfully sculpted stock sandwiches soft red undertones between its black laminates, although a walnut version is also available for traditionalists. However it's dressed though, its ambidextrous design caters for a perfect gun fit courtesy of a butt pad and raised cheekpiece, both fully adjustable. Aiding the Red Wolf's user-friendly handling is a lightweight carbon-fibre bottle (though a steel option is available), above which sits a fully-shrouded carbon barrel that helps mute the muzzle report in the field. And, of course, the Red Wolf's new side lever design marries effortless cocking with speedy loading courtesy of Daystate's latest generation, auto indexing magazine.
Specification
Caliber
5.5mm (.22″) – 6.35mm (.25″)
Max Velocity
Use up to 930fps
Muzzle Energy 5.5mm(.22″)
5.5mm 68J (50fpe)
Muzzle Energy 6.35mm(.25″)
6.35mm 81J (60fpe New version from 2018)
Loudness
 
Barrel Length
600mm *1 (23″)
Overall Length
1140mm (45″)
Shot Capacity
10
Barrel
Rifled
Scopeable
11mm dovetails
Trigger
Electronic release, adjustable
Action
Side Lever action – reversible
Safety
Manual, Cross Bar, Bolt Open Deactivation
Powerplant
Pre-charged pneumatic
Function
Repeater
Shots Per fill 500cc
80 – .22cal. / 85 – .25cal.
Shots Per fill 480cc
70 – .22cal.*2 / 75 – .25cal.
Body Type
Rifle
Adj. power 5.5mm(.22)
High 50fpe, Mid. 40fpe, Low 30fpe
Adj. power 6.35mm(.25)
High 60fpe, Mid. 45fpe, Low 30fpe
Weight
3800g (8.5lbs)
Cylinder Size
500cc, 480cc. 250BAR/3,625PSI
Shrouded
Yes
Battery
LiPo 2cell 15c 1000mAh
Suggested for
Hunting
*1 Catalog Data, 600mm on Daystate web site.
*2 Catalog Data, 75 – .22cal. on Daystate web site.
---
Power Adjustment
High – Mid
Low
---
Power Adjustment .25cal. Simulate
---